There is a Better Way
"THE RIGHT WAY"
Introducing The
Think Consortium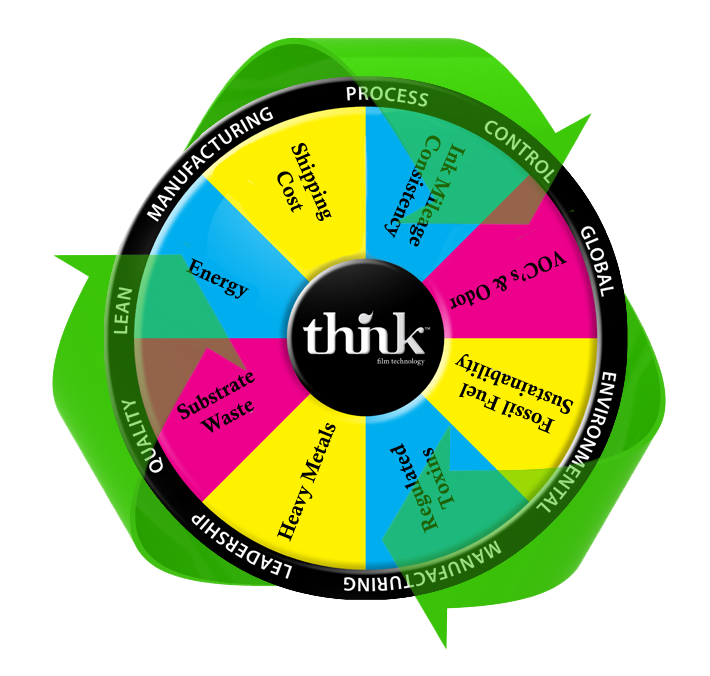 Together with some of the most forward thinking suppliers in the printing industry Timsons Inc has developed solutions to address many of the major issues facing printers today.
Whether Sheetfed, Web or Metal Deco, Timsons Inc and our THINK partners can help you... 
Reduce Required Skill Levels
Lower Waste
Improve Quality
Faster Turns (Sheetfed)
Less Than 5min Color Changes
Coldset Conversion
Reduce Energy
Reduce VOC's
Eliminate Regulated Toxins
Using a "Less is Best" philosophy we are able to reduce consumption while improving quality, reducing waste, emissions and operator input.
Skilled personnel are both hard to find and expensive.
By utilizing ink presetting via the THINK Area Reader, and eliminating conventional ink key/ductor coverage compromises, with the Ink Preset Control (IPC) system. Color is easily attained and maintained with minimal operator input.
Waiting for scumming to clear, setting color or simply waiting for color to balance generates the majority of offset waste.
By utilizing Ink Preset Control (IPC) and optimizing the press chemistry and plates to run Min Ink, Min Water, waste can be kept to an absolute minimum.
By only feeding the amount of ink required by the plate, and in litho applications minimizing the water film via our solvent free fountain solution, lithographic dot gain can be kept to an absolute minimum.
By eliminating excessive ink & water from the inking rollers, misting generated when using energy curable inks can be greatly reduced.
THINK CMYK Sheetfed Inks in combination with THINK-HR fountain solution significantly reduce drying times.
Our less is best "THINK" Thin Ink film inks use highly quality pure pigments & utilize our proprietary green chemistry enabling rapid "natural" cross linking & polymerization.
Work and turn times are significantly reduced while the deepness of the pure pigments enhance the look of the printed product.
THINK CMYK Inks have low VOC & are free of regulated Toxins.
THINK CMYK Web Inks in combination with THINK-HR fountain solution were developed to enable heatset printers to run coldset.
Thin Ink (THINK) is currently not a direct replacement for heatset ink in all environments however it does have many applications with certain work mixes and paper types.
Its advantages are obvious -  No  Drying / Chilling or Pollution Control Required, however marking can be an issue possibly requiring special coatings & belting within the machine. Care must also be taken to run Thin Ink, thin as excessive ink takes longer to dry.
As Thin Ink is currently application dependent please Contact Us to see if you could benefit from running cold.
The IPC's elimination of ink keys together with ingenious magnetic ink cheeks & motorized fountain liner makes it possible to clean the fountain in only 1-2 minutes.
Add an automated roller wash & you can clean one or simultaneously all units in under 5 minutes. 
Our 21st Century chemistry is not only better for the environment, it's also better for your employee's health and your pocket book.
Our chemistry is void of SARA Title 313 & Hazardous Air Pollutants (HAP's) so you have nothing to report. VOC's are extremely low as measured by (Method 24)
By removing regulated toxins as well as odors from press-room fountain solutions & roller washes, plate dot structure is maintained enabling higher resolution & longer roller life.

Sustainability has many more benefits contact us today to find out.
We thank our like minded partners for investing their valuable resources in the further development of printing technologies.
Please support these companies as they are dedicated to supporting our industry
Represents THINK Technologies in the Packaging Industry. Amerikal has been the primary developer of  the THINK Green Chemistry press fount & solvents.
Enquiries for the packaging industry only should be directed to...
Amerikal Products Corporation
2115 Northwestern Ave.
Waukegan, IL 60087
Phone: 847-244-3600
Fax: 847-244-2860
Email: info@amerikal.com
Southern Litho Plate - US Manufacturer of quality offset plates, the uniform grain structure makes it possible to carry less water & subsequently use less ink.
Southern Lithoplate, Inc.
P.O. Box 9400
Wake Forest, NC 27588
Phone: 800-638-7990
Fax: 919-554-0786
Email: info@slp.com  support@slp.com 
Pamarco Global Graphics was one of the first to appreciate development in the offset industry & generously supported the Think Project, by contributing various high quality rubber rollers for analysis with our green chemistry.
Pamarco Global Graphics
150 Marr Avenue
Marietta, GA 30060
Tel: 770-795-8556
Website: http://www.pamarcoglobal.com/
Hadronics are the coating specialists & have fully supported the THINK project with Dampener Chromes, Recip Nylon & Anti set-off roller coatings
Hadronics
4570 Steel Place
Cincinnati, OH 45209

Toll Free: 800.829.0826
Phone: 513.321.9350
Fax: 513.321.9377

Emergency Service: 513.403.4198

E-Mail: sales@hadronics.com
Nitta is the industry leader for anti set-off belting & also offers time saving solutions for fast join belting.
Nitta Corporation of America
7605 Nitta Drive
Suwanee, GA 30024
Phone: 770-497-0212
Toll Free: 800-221-3689
Fax: 770-623-1398
Stefan Wegdell of Nip Control has developed one of the most unique & useful setting gauges for inking rollers. Unlike other gauges which measure the contact area (Roller Stripe), the Low Pressure Nip Control Gauge measures the "pressure"  the only true way to set rollers by compensating for roller hardness.
Nip Control AB
Gamla Skolvägen 36
133 36 Saltsjöbaden, Sweden
Ph: +46 (0)8 556 164 77 Fax: +46 (0)8 717 5526

info@nipcontrol.com
www.nipcontrol.com
Norkol is one of the nation's largest independently owned converters and distributors of commercial printing papers. View their e-brochure - www.norkol.com/brochure
11650 W. Grand Ave
Northlake, IL 60164
Ph: 708-531-1000
Fax: 708-531-0030
3402 Innovative Way
Mesquite, TX 75149
Ph: 972-329-6815
Fax: 972-329-3848

1800 Ogletown Rd.
Newark, DE 19711-5430 
Ph: 302-283-1080
Fax: 302-283-1070
I.Mer's  J.Color range of components are a perfect fit for the demands of today's printing industry.
By focusing on automation, accuracy, & repeat-ability I.Mer have developed solutions for both the offset & Metal Deco markets that not only save time, but also reduce skill requirements while improving performance & quality.
I.Mer Products Include..
For Both Offset & Metal Decorating
I.P.C - Ink Preset Control via Divided Ductor
A.F.C - Auto Fountain Cleaner - No Solvents Required
A.C.C - Auto Cassette Changer - Auto Color Changing & Ink Level Control
Metal Decorating Only
A.P.C - Automatic Plate Changer
High precision anti backlash gearing for Rutherford & Concord decorators.
Automatic Circumferential & Lateral register control
Post print can inspection system
For information on any or all these components please Contact Timsons Inc.