Me and My Timson T-Press
At the heart of MPG's King's Lynn book production site is a highly efficient all-digital line that makes the most of Kodak Stream head
Ringing in the changes can be a scary business, especially when you've been used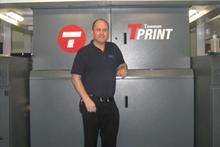 to the same setting and the same way of working for many years, as Gary Mackney has. "I've been working at King's Lynn for 16 years and I know every inch of this factory," says the operations manager, who for the first 12 years of his career worked for Biddles, but has for the past four years been part of MPG Printgroup, following its acquisition of the book printer.
But Mackney is unequivocal in his support for the changes that MPG has rung throughout the pressroom, since it took over. He believes that moving with the times – in this case, switching from litho to digital – is crucial to this book printing facility's survival.
"Three years ago, the company made the decision to move to 100% digital manufacturing," he explains. "We took the huge step of clearing out all of the litho machines from our factory and replacing them with digital inkjet technology.
"To be a part of this transformation, from litho to digital, has been a once-in-a-lifetime opportunity," he continues. "It can be likened to the move from letterpress to litho. Unlike conventional litho technology, the digital manufacturing process can print pages, fold them and gather them into book blocks in one operation, making the process more efficient and, therefore more competitive."
In fact, the switch from litho to digital at Mackney's place of work has been part of a wider overhaul of MPG's operations. The company, which started life as Martins Printing Group 50 years ago, was recently renamed MPG Printgroup, to reflect a new era for the business. Its Bodmin, Cornwall site has recently bade farewell to a range of litho kit as well to become the company's administration, IT and client services HQ, and, replete with two Océ 6320s, MPG's centre for on-demand books in runs of up to 99.
Meanwhile, one of Bodmin's KBA 142s has been relocated to a new plant in Bar Hill, Cambridgeshire, that is taking on all of the firm's remaining long-run academic journal and educational book jobs.
This of course leaves the King's Lynn site free to process the significant bulk of jobs that now sit somewhere in the middle of long and super-short runs. The first piece of kit the company installed for this purpose was a Kodak Prosper 1000 with a Timson T-Fold, which is best-suited to runs of 100 to 1,500 books.
Next on MPG's shopping list was an inkjet mono machine with the speed and capacity to process runs of up to 4,000 books. And MPG was so impressed with its experience of both Timson and Kodak technology that it opted for a Timson T-Print, which employs Kodak Stream printheads, together with an inline T-Fold to comprise a T-Press production system.
The aim, reports Mackney, was to create a completely different, and much slicker, set-up, with the Timson T-Folds operating at its heart. The design for the factory floor was planned to accommodate the most efficient workflow, with work from the T-Folds handled by a Kolbus binding line that is near-line rather than inline to maintain flexibility. "It is a personal opinion, but I believe we now have one of the most efficient logistical models for book printing in Europe," says Mackney.
Unique option
While the company was keen that the next inkjet added after the Prosper to be of higher capacity and incorporate a T-Fold they were already so pleased with, MPG could of course have again paired the folder with a printer from another manufacturer. But Mackney reports that – while presses from both HP and Océ were in the running when shopping for the Prosper – in the case of the T-Print, nothing came close. "The Timson is quite unique at the moment because of the speed and the web width on the reel," he says. "There's no other manufacturer at the moment who can produce that."
And it's the web width and impressive speed of the T-Print machine that has made it such a successful addition to the King's Lynn mono line-up. "The speed of the press is really good; it's 200m per minute at the moment and we have an upgrade coming in to make it up to 300m per minute," reports Mackney. "And with such a good width we can print a lot of our formats double the width we could on any other machine. So that improves our throughput even further."
The quality of the Kodak Stream heads has been just as impressive in the Timson chassis as it has been in the Prosper, reports Mackney, who is a big advocate of the technology these heads employ.
"We feel continuous-stream is much more robust than a drop-on-demand system," says Mackney. "Each module has 2,496 jets in it. The non-image area droplets get dispersed with air. So, because each jet is continuously dropping ink, they don't get blocked, which means less servicing and better quality."
That said, it hasn't been completely plain sailing for the T-Press system install. A few technical issues were always going to be on the cards, says Mackney, due to MPG being one of the very first companies to install the T-Print press with Kodak Stream heads. But considering this, and the fact that the machine has done a fair amount of travelling to showcase the new technology, it has performed very well, he says.
"The machine was first put together at Timson in Kettering, then it went to Drupa last year, then it came back to Kettering and then came back here, so it's a well-travelled machine and been put together four times," says Mackney.
"We weren't a beta test site as such, but we took the machine on knowing there were still some things to improve. There's still some software and control panel integration work being finished off," he continues. "But over the past few weeks we've had visits from three experts from the Kodak Graphic Communications Group's HQ in the US, as well as Timson engineers. We've had full support from both parties, they're working on the project together."
Greater throughput
Mackney is very happy, then, with MPG's latest addition to its mono inkjet line-up. The T-Press system is enabling the firm to process more work, which is projected to enable the King's Lynn site to double its turnover to £12m. And, of course, speedier printing carries the benefit, not only of boosted capacity, but quicker turnarounds to boot.
"Recently, one of our big customers in London phoned to ask for a last-minute job for a book launch. We started the job first thing in the morning and the copies were delivered to the event by one o'clock the same day," reports Mackney. "With litho, there is no way we could have offered that service. We can now offer the highest levels of customer satisfaction, helping our customers differentiate themselves from their competitors."
So while litho will continue to have its place at MPG's Cambridge site, the future for King's Lynn is very much a digital one.
"Continuous inkjet printing is the future – clean, fast and flexible," concludes Mackney. "As the book market adapts, we needed a solution for short-run book manufacturing. Since the installations, we have achieved substantial efficiencies, with a reduction in paper consumption combined with incredible press availability."
SPECIFICATIONS
T-Print
Web width 1,245/1,320mm (49/52in)
Max speed 200m/min (300m/min at 600dpi with upgrade)
Quality 600x900dpi (equivalent to 133lpi)
Price (with T-Fold)?£2.8m-£3m depending on specification
T-Fold
Max speed 300m/min
Book sizes Various (by producing a long grain three sides open copy with the option to change the cut off)
Formats Perfect bind, sew, saddle stitch or notch bind finished books
Compatibility Compatible with all web-based digital presses
Substrate range 28-120gsm
Standalone price £1m-£ 1.2m depending on specification
Contact Timsons 01536 411 611 www.timsons.com

COMPANY PROFILE 
The newly renamed MPG Print Group has been born out of a series of acquisitions made over the past four years. The company today consists of three UK sites: its headquarters and on-demand printing site in Bodmin Cornwall; an inkjet mono printing, colour section and cover printing site in King's Lynn, previously named Biddles; and a site in Bar Hill, Cambridgeshire, which now looks after the company's long-run academic journal and educational book jobs.
Why it was bought…
After investing in a Kodak Prosper 1000, MPG decided it wanted to really ramp up its King's Lynn-based inkjet mono offering, by complementing it with a higher capacity press. Whereas in the past, any runs of more than 1,500 were printed on one of the firm's litho machines, now jobs of between 1,500 and 4,000 can be run more economically on the new Timson T-Press line.
How it has performed…
As one of the first to install the T-Print press with Kodak Stream printheads, MPG was expecting to encounter a few teething problems in the first few months. Both Timson and Kodak have been very conscientious in helping MPG work through these, however, and operations manager Gary Mackney reports that overall the machine has been very "reliable." He reports that print quality and productivity have proved as impressive as expected.